John Banks has confirmed he will resign from Parliament from this Friday.
Breaking News
The Epsom MP was on Thursday found guilty of knowingly filing a false electoral return in relation to his 2010 campaign for the Auckland mayoralty.
"Further to decision of the High Court at Auckland last Thursday, I will resign the seat of Epsom effective from 5pm this Friday the 13th of June 2014," Mr Banks said in a statement late this afternoon.
 
"I will write to the Speaker tomorrow advising him of my resignation," Mr Banks said.
TO John Banks Copy the Rest of New Zealand
Dear John,
I can understand the situation you find yourself in having been in the same situation myself.
From this personal experience I can tell you that you are at serious risk of receiving a jail term of about 18-months.
His Honour has given you the opportunity to qualify for Home Detention. The term is likely to be about six months. He is NOT going to consider a discharge without conviction. That is a delusional fantasy. If David Jones QC continues to suggest the possibility my advice is to sack him and file a complaint with the Law Society on the basis of gross incompetence.
See my attached missive on the process. If you get home detention your overseas travel will suffer minimal disruption. Any jail term of one year or more and the Inter Islander Ferry may be about your limit.
How then do you ensure you stay out of jail?
1. Accept responsibility for your actions.
2. Immediately as part of acceptance resign from Parliament. Do not dance on the head of a pin before the Probation Officer on the difference between "Found Guilty of an Indictable Criminal Offence" and "A Conviction being entered".
3. On Monday YOU contact the Probation Service. Do not let your clown of a lawyer do it or wait for a Probation Officer to phone you.
4. COOPERATE with them. BE VERY HUMBLE
5. Tell them you have royally screwed up and that you are unconditionally guilty.
6. Do a press conference and make an unreserved apology to the People of New Zealand for your conduct. Back that up by a huge donation to low decile schools. Do not say which ones or how much. That will not get you off but it will be spiritually uplifting
7. Tell them you will not be appealing the verdict.
8. DO NOT ATTACK OTHER PERSONS INVOLVED IN THE CASE.
9. Assure the Probation Officer that you will comply with all instructions and conditions of Home Detention no matter how tedious. And they will be tedious.
10. Treat the Probation Officer with respect. Do not make racial or serious remarks. You may find your Probation Officer is a young female Criminology Grad less than half you age.
11. The Probation Service will need to approve your apartment for Home Detention. From my experience it is probably not suitable. The reason is that a Probation Officer or Security Guard cannot walk up to the front door 24-hours a day because of the building security. Tomorrow rent a VERY MODEST house with walk up to the front door. Talk to the Probation Service about this.
12. Finally welcome to the Human Race. We are not bad people who will become good, just human beings who do good and bad things at various times of our lives. This too will pass.
Wishing you all the health, happiness and success I enjoy for myself one day at a time.
Kindest Regards
Graham Mc Cready
We have some how come up with a new concept that   that  convicted does not  have the same meaning as guilty .
Many have  overlooked the fact that  John Banks  has been convicted   see the  judgment here  R v BANKS [2014]
Together with Grace Haden   I filed a memorandum at the High court yesterday  drawing the registrars attention to  the fact that John Banks is Convicted . see   Guilty or Convicted the John Banks dilemma
the document we filed  can be seen here  it reads
To the Registrar Auckland High court
1. I have been in touch with the secretary of the speaker of the house who informs me that they have not been advised of Mr. Banks conviction
2. We Understand that there has been a change in the law and it would appear that the words Convicted and Guilty now may not be synonymous
3. His honour in his decision Paragraph 6 states
[6] The information against Mr Banks was laid on 10 December 2012. Sections 105 and 106 of the Criminal Procedure Act 2011 apply to Judge-alone trials. However, those provisions only came into force on 1 July 2013. Pursuant to s 397 of the Act, this matter has been determined in accordance with the law as it was before that date.
4. The law prior to 1 July 2013 also included the only definition of conviction which was found under section 3 of the crimes act and repealed on 1.July 2013
5. The law which is applicable to the guilty finding also applies to the definition of convicted being that section 3 of the crimes act 1961
3. Meaning of "convicted on indictment"—For the purposes of this Act, a person shall be deemed to be convicted on indictment if—
(a) He pleads guilty on indictment; or
(b) He is found guilty on indictment; or
(c) He is committed to the Supreme Court for sentence under section 44 or section [153A or section] 168 of the Summary Proceedings Act 1957; or (d) After having been committed to the Supreme Court for trial, he pleads guilty under section 321 of this Act.
6. Paragraph 2 of his Honours decision states that Mr. Banks was charged on Indictment and Paragraph 3 states that he has been found guilty .
7. We therefore urgently request that you seek to confirm this and if confirmed advise the speaker of the house forth with.
Grace Haden
Penny Bright
7 April 2014
The application by Jo(h)n Banks to dismiss the election fraud charge against him on the grounds of insufficient evidence was dismissed by the High Court in Auckland today.
Mr Banks will stand trial in the High Court before a Judge sit(t)ing alone in place of a jury starting on 19 May 2014 for two weeks.
On conviction Mr Banks' seat in Parliament will be immediately declared vacant by the Speaker and he faces a term of imprisonment of up to two years.
The Judgment of Justice Wylie is attached
Graham Mc Cready
Prosecutor for New Zealand Private Prosecution Service Limited
022 025 3871
10 December 2013
The trial of John Archibald Banks for alleged electoral fraud will now be heard in the Auckland High Court, not the Auckland District Court.
The next hearing is :
WHERE:  Auckland High Court
Waterloo Quadrant
WHEN:    Wednesday 11 December 2013
TIME:      9am
See decision of J Heath 3 December 2013
JOHN BANKS R v Banks.pdf J Heath 3 December 2013
Penny Bright
10 November 2013
Press Release from Graham McCready re: Judicial Review Hearing :
CIV 2013 – 404 – 4645
BETWEEN John Archibald Banks
Applicant
AND Auckland District Court
First Respondent
AND SOLICITOR-GENERAL
Second Respondent
Minute Judge Heath 27 Nov Hearing (1)
"Please find attached the Minute of Judge Heath for the 27 November Hearing.
I will not be attending as I have another appearance in Wellington for the NZPPS Ltd v Creser perjury case in the Wellington District Court on the same day.
I will be appearing in the Auckland District Court on 22 November 2013 on a case where a Barrister allegedly forced the signature of a Solicitor to give himself  the false authority to act in a matrimonial property law case. The lawyer subsequently made false statements to the police and had his client charged and convicted of Blackmail. The client had difficulty in instructing a lawyer to defend that charge because the complainant was another lawyer.
Graham Mc Cready
Agent for NZPPS Ltd"
Email from Graham McCready 17 October 2013
 As confirmed by the attached letter the Solicitor General is reconsidering the previous request to intervene in the Banks case and take Banks to trial.Soicitor General reconsider intervention
 Graham Mc Cready the informant had requested an intervention on 27 June 2013 during the ADC hearings but the Solicitor General said he would wait until Banks was committed to trial.Banks Solicitor General Intervention
 A meeting has been held with the stakeholders of New Zealand Private Prosecution Service Limited and the company has advised the Solicitor General that the company consents to the intervention. The Solicitor  General can use the considerable resources of the Crown to take Banks to trial.
 This frees up NZPPS Ltd with its very meager resources to commence and bring other cases to the same point as the Banks case.
 The next case for the prosecution Service is NZPPS LTD v Creser at the Wellington District Court on 22 October 2013 at 2:15 PM. It is important for media to continue their excellent work that they have done with the Banks case to keep the Attorney General from abusing the system by staying proceedings when the crown has a conflict of interest in the case.
 The Judgement of Judge Gittos is attached as is the letter from the Solicitor General.Judgement Judge Gittos 16 Oct 2013
Graham Mc Cready agent for NZPPS Ltd
Read  Judge Gittos  decision  Judgement Judge Gittos 16 Oct 2013
How it unfolded
Banks' lawyer: McCready no-show 'hopeless'
Banks kept at arm's length from campaign finances, court told
Dotcom 'offended' by Banks' anonymous donation request
John Banks resigns as Minister
John Banks vows to clear name after resigning as Minister
Editorial: Hats off to power of the individual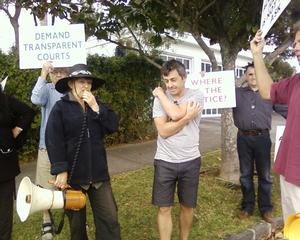 3 May 2013
Open Letter to the NZ Solicitor-General, Michael Heron:
Dear Solicitor-General,
http://www.crownlaw.govt.nz/uploads/prosecution_guidelines.pdf
The 'Evidential' and 'Public Interest' tests as outlined in s6 of the Crown Law Prosecution
Guidelines, have arguably been met in the decision of Wellington District Court Judge Mill on 16 April 2013, in the matter of Graham Edward McCready (Informant) vs John Archibald Banks  (Defendant)  CRI – 2012-085-0009093 and CRI – 2012- 085- 007894:
Judge Mill's decision is available here:
http://www.dodgyjohnhasgone.com/wp-content/uploads/2013/04/Banks-summoned-on-election-
return-19-4-13.pdf
Both myself and Lisa Prager, made formal complaints to the NZ Police over this matter, as
outlined below, in this reply, dated 26 July 2012:
http://www.dodgyjohnhasgone.com/wp-content/uploads/2012/07/Bright-Letter.pdf
" COMPLAINT REGARDING  HONOURABLE  JOHN  BANKS  – MAYORAL  ELECTIONS
RETURN – FILE NO: 120427/9334 REFERS
On  27  April  2012,  you  made  a  complaint  to  the  Auckland  City  Police  requesting  they
investigate reports regarding the Hon. John Archibald Banks, CNZM QSO,  that he submitted a
false donation return in respect to the Auckland City Council Mayoral election 2010 .
Specifically the letter of complaint referred to two donations in question:
1.  A $15,000.00  donation  allegedly made by Sky City to  the former Auckland  City  Mayor John
Banks which did not show up as a donation in the return .
2.  A donation of "Anonymous- radio ads" .
On  Monday 30 April 2012 you  made a further complaint in  respect to the election  expenses
donation return  by Mr John Banks.  Your complaint referred  to media articles  by Campbell Live
(27 April  2012) and  the  New Zealand  Herald (28 April 2012) that discussed donations allegedly
made by Mr Dotcom to Mr Banks for his mayoral campaign .
In  both  complaints  you  allege that  if the  articles  were  correct then  Mr Banks  had  breached
the Local Electoral Act 2001  in  that a candidate  commits an  offence who transmits a return of
electoral expenses knowing that it is false in any material particular…."
The NZ Police chose not to prosecute.
The significant and ongoing 'public interest' in this case is arguably referenced in the following
article in today's NZ Herald:
http://www.nzherald.co.nz/nz/news/article.cfm?c_id=1&objectid=10881226
Loss in court would cost Banks seat
By Isaac Davison @Isaac_Davison
5:30 AM Friday May 3, 2013
_______________________________________________________
Lisa Prager and myself, Penny Bright, hereby support the following Memorandum of Informant,
dated 29 April 2013:
Referral to Solicitor-General to Intervene as Prosecutor
http://www.dodgyjohnhasgone.com/wp-content/uploads/2013/04/John-Banks-referral-to-Solicitor-
General.pdf
Please be reminded of the following statutory provision of the Local Electoral Act 2001:
http://www.legislation.govt.nz/act/public/2001/0035/latest/DLM93437.html
6 Act binds Crown
This Act binds the Crown.
Please confirm at your earliest convenience that Crown Law will do their best to ensure that
'justice is done and is seen to be done', and ensure that the principle of 'one law for all', equally
applies to sitting Ministers of the Crown, by intervening as Prosecutor in this above-mentioned
proceeding.
Yours sincerely,
Penny Bright
Lisa Prager
Further evidence of public interest     JOHN BANKS Application Media coverage Banks 8 May 2013
The John Banks Private Prosecution has been referred to the Solicitor General with a request that the Crown take over the prosecution and appear for the Informant when Banks is summoned to appear in the Auckland District Court sometime in May or early June 2013.
 see the document here John Banks referral to Solicitor General
The Police investigation of found that the defendant had transmitted an election return false in a material particular (the subject donations were not anonymous) and had sufficient evidence to charge him summarily under Section 134(2) of the Local Electoral Act. However they were statutory barred from doing so under the provisions of the Summary Proceedings Act that required an Information to be filed within six months of the alleged offence. They also found that there was insufficient evidence that the defendant knew that the donations were not anonymous to charge him under Section 134(1) of the  Act. For these reasons no Public prosecution was commenced

On 7 November 2012 and again on 16 April 2013,  Judge IG Mill found that there was sufficient evidence that the private prosecutor could adduce to establish a prima facie case against the defendant.
c.      Referral to the Solicitor General
Given that the evidential barrier has been overcome and the Court has ordered the defendant to appear to answer to the Information, the prosecutor hereby refers the case to the Solicitor General for the Crown to continue the prosecution as a Public Prosecution.The prosecutor submits there is considerable public interest and support for this cause of action. 
The District Court Memorandum served on the Solicitor General on 29 April 2013 is attached
Graham Mc Cready
Informant