7 April 2014
The application by Jo(h)n Banks to dismiss the election fraud charge against him on the grounds of insufficient evidence was dismissed by the High Court in Auckland today.
Mr Banks will stand trial in the High Court before a Judge sit(t)ing alone in place of a jury starting on 19 May 2014 for two weeks.
On conviction Mr Banks' seat in Parliament will be immediately declared vacant by the Speaker and he faces a term of imprisonment of up to two years.
The Judgment of Justice Wylie is attached
Graham Mc Cready
Prosecutor for New Zealand Private Prosecution Service Limited
022 025 3871
10 December 2013
The trial of John Archibald Banks for alleged electoral fraud will now be heard in the Auckland High Court, not the Auckland District Court.
The next hearing is :
WHERE:  Auckland High Court
Waterloo Quadrant
WHEN:    Wednesday 11 December 2013
TIME:      9am
See decision of J Heath 3 December 2013
JOHN BANKS R v Banks.pdf J Heath 3 December 2013
Penny Bright
10 November 2013
Press Release from Graham McCready re: Judicial Review Hearing :
CIV 2013 – 404 – 4645
BETWEEN John Archibald Banks
Applicant
AND Auckland District Court
First Respondent
AND SOLICITOR-GENERAL
Second Respondent
Minute Judge Heath 27 Nov Hearing (1)
"Please find attached the Minute of Judge Heath for the 27 November Hearing.
I will not be attending as I have another appearance in Wellington for the NZPPS Ltd v Creser perjury case in the Wellington District Court on the same day.
I will be appearing in the Auckland District Court on 22 November 2013 on a case where a Barrister allegedly forced the signature of a Solicitor to give himself  the false authority to act in a matrimonial property law case. The lawyer subsequently made false statements to the police and had his client charged and convicted of Blackmail. The client had difficulty in instructing a lawyer to defend that charge because the complainant was another lawyer.
Graham Mc Cready
Agent for NZPPS Ltd"
Email from Graham McCready 17 October 2013
 As confirmed by the attached letter the Solicitor General is reconsidering the previous request to intervene in the Banks case and take Banks to trial.Soicitor General reconsider intervention
 Graham Mc Cready the informant had requested an intervention on 27 June 2013 during the ADC hearings but the Solicitor General said he would wait until Banks was committed to trial.Banks Solicitor General Intervention
 A meeting has been held with the stakeholders of New Zealand Private Prosecution Service Limited and the company has advised the Solicitor General that the company consents to the intervention. The Solicitor  General can use the considerable resources of the Crown to take Banks to trial.
 This frees up NZPPS Ltd with its very meager resources to commence and bring other cases to the same point as the Banks case.
 The next case for the prosecution Service is NZPPS LTD v Creser at the Wellington District Court on 22 October 2013 at 2:15 PM. It is important for media to continue their excellent work that they have done with the Banks case to keep the Attorney General from abusing the system by staying proceedings when the crown has a conflict of interest in the case.
 The Judgement of Judge Gittos is attached as is the letter from the Solicitor General.Judgement Judge Gittos 16 Oct 2013
Graham Mc Cready agent for NZPPS Ltd
Read  Judge Gittos  decision  Judgement Judge Gittos 16 Oct 2013
How it unfolded
Banks' lawyer: McCready no-show 'hopeless'
Banks kept at arm's length from campaign finances, court told
Dotcom 'offended' by Banks' anonymous donation request
John Banks resigns as Minister
John Banks vows to clear name after resigning as Minister
Editorial: Hats off to power of the individual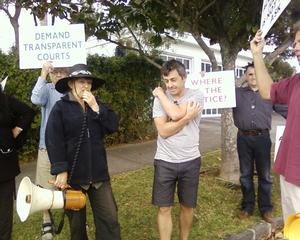 3 May 2013
Open Letter to the NZ Solicitor-General, Michael Heron:
Dear Solicitor-General,
http://www.crownlaw.govt.nz/uploads/prosecution_guidelines.pdf
The 'Evidential' and 'Public Interest' tests as outlined in s6 of the Crown Law Prosecution
Guidelines, have arguably been met in the decision of Wellington District Court Judge Mill on 16 April 2013, in the matter of Graham Edward McCready (Informant) vs John Archibald Banks  (Defendant)  CRI – 2012-085-0009093 and CRI – 2012- 085- 007894:
Judge Mill's decision is available here:
http://www.dodgyjohnhasgone.com/wp-content/uploads/2013/04/Banks-summoned-on-election-
return-19-4-13.pdf
Both myself and Lisa Prager, made formal complaints to the NZ Police over this matter, as
outlined below, in this reply, dated 26 July 2012:
http://www.dodgyjohnhasgone.com/wp-content/uploads/2012/07/Bright-Letter.pdf
" COMPLAINT REGARDING  HONOURABLE  JOHN  BANKS  – MAYORAL  ELECTIONS
RETURN – FILE NO: 120427/9334 REFERS
On  27  April  2012,  you  made  a  complaint  to  the  Auckland  City  Police  requesting  they
investigate reports regarding the Hon. John Archibald Banks, CNZM QSO,  that he submitted a
false donation return in respect to the Auckland City Council Mayoral election 2010 .
Specifically the letter of complaint referred to two donations in question:
1.  A $15,000.00  donation  allegedly made by Sky City to  the former Auckland  City  Mayor John
Banks which did not show up as a donation in the return .
2.  A donation of "Anonymous- radio ads" .
On  Monday 30 April 2012 you  made a further complaint in  respect to the election  expenses
donation return  by Mr John Banks.  Your complaint referred  to media articles  by Campbell Live
(27 April  2012) and  the  New Zealand  Herald (28 April 2012) that discussed donations allegedly
made by Mr Dotcom to Mr Banks for his mayoral campaign .
In  both  complaints  you  allege that  if the  articles  were  correct then  Mr Banks  had  breached
the Local Electoral Act 2001  in  that a candidate  commits an  offence who transmits a return of
electoral expenses knowing that it is false in any material particular…."
The NZ Police chose not to prosecute.
The significant and ongoing 'public interest' in this case is arguably referenced in the following
article in today's NZ Herald:
http://www.nzherald.co.nz/nz/news/article.cfm?c_id=1&objectid=10881226
Loss in court would cost Banks seat
By Isaac Davison @Isaac_Davison
5:30 AM Friday May 3, 2013
_______________________________________________________
Lisa Prager and myself, Penny Bright, hereby support the following Memorandum of Informant,
dated 29 April 2013:
Referral to Solicitor-General to Intervene as Prosecutor
http://www.dodgyjohnhasgone.com/wp-content/uploads/2013/04/John-Banks-referral-to-Solicitor-
General.pdf
Please be reminded of the following statutory provision of the Local Electoral Act 2001:
http://www.legislation.govt.nz/act/public/2001/0035/latest/DLM93437.html
6 Act binds Crown
This Act binds the Crown.
Please confirm at your earliest convenience that Crown Law will do their best to ensure that
'justice is done and is seen to be done', and ensure that the principle of 'one law for all', equally
applies to sitting Ministers of the Crown, by intervening as Prosecutor in this above-mentioned
proceeding.
Yours sincerely,
Penny Bright
Lisa Prager
Further evidence of public interest     JOHN BANKS Application Media coverage Banks 8 May 2013
The John Banks Private Prosecution has been referred to the Solicitor General with a request that the Crown take over the prosecution and appear for the Informant when Banks is summoned to appear in the Auckland District Court sometime in May or early June 2013.
 see the document here John Banks referral to Solicitor General
The Police investigation of found that the defendant had transmitted an election return false in a material particular (the subject donations were not anonymous) and had sufficient evidence to charge him summarily under Section 134(2) of the Local Electoral Act. However they were statutory barred from doing so under the provisions of the Summary Proceedings Act that required an Information to be filed within six months of the alleged offence. They also found that there was insufficient evidence that the defendant knew that the donations were not anonymous to charge him under Section 134(1) of the  Act. For these reasons no Public prosecution was commenced

On 7 November 2012 and again on 16 April 2013,  Judge IG Mill found that there was sufficient evidence that the private prosecutor could adduce to establish a prima facie case against the defendant.
c.      Referral to the Solicitor General
Given that the evidential barrier has been overcome and the Court has ordered the defendant to appear to answer to the Information, the prosecutor hereby refers the case to the Solicitor General for the Crown to continue the prosecution as a Public Prosecution.The prosecutor submits there is considerable public interest and support for this cause of action. 
The District Court Memorandum served on the Solicitor General on 29 April 2013 is attached
Graham Mc Cready
Informant
The decision of Judge Mill is out   read the full decison here Banks summoned on election return 19 4 13
he finishes up  saying
I do not think: it can be said that the prosecution has no prospect of success. There is sufficient evidential foundation for a summons to issue. The provision for private prosecutions in our law is itself an important check on potential abuses of prosecutorial discretion conferred on the Executive: Gouriet v Union of Post Office Workers [1978] AC 435 at 498, so the police decision not to prosecute cannot, in my view, strongly militate against issuing a summons in a private prosecution where the requirements for doing so are otherwise met.
[ 44] I agree that there will be significant media interest if the prosecution of Mr Banks goes ahead. However that would also have been the case if Mr Banks had been prosecuted by the Police or by the Crown. The likelihood of media interest
cannot be a ground for declining to allow a prosecution to proceed. In my estimation strong media interest indicates a strong public interest, which would tend to support the contention that it is appropriate for the case to be answered in open court.
[ 45] Likewise, the character of a proposed infom1ant or his or her personal wherewithal to successfully prosecute a privately brought charge cannot, in my opinion, influence the summons discretion. What is impotiant is whether the proposed informant is able to give substance to the allegations. If so, the informant is entitled to access to the courts.
[ 46] Accordingly for the reasons already given I authorize the issue of the sunm1ons and direct that it then be transferred to the Auckland District Court.
Congratulations Graeme    from the team at Dodgy john has  gone.com
"NZ Herald – News digest Tuesday 20 November 2012
Banks faces more counts
Act leader John Banks is facing two fresh charges in a private prosecution brought by political activist Graham McCready.  The charges relate to Mr Banks' role at investment company Huljich Wealth Management before he became an Act MP. "
Written Submissions by Informant in Support of the Informations and of Issuing a Summons on the Proposed Charges
Wellington District Court stamped front cover of Written Submissions dated 19 November 2012  court acknowledgment
Graham McCready states that the Deputy Registrar 'confirmed she would set them down for Banks to be Summons to appear on these two with the Local Elections Act charge on 11 December 2012 at 1:45. The Court will ensure the Police serve all three summonses.'
Graham McCready will be filling the same Securities Act Informations against against Don Brash on Wednesday 29 November.
When the  police don't act  you have to  rely on  a public spirited  individual .
DECISION OF JUDGE IG MILL [Re: Issue of Summons]
[17]  In my view, if Mr McCready can present evidence that reflects these allegations then there is a sufficient case to be tested in Court.
[18]  I therefore amend the information to be an indictable one and direct that a summons issue.
see full decision here McCready-Banks